Visiting Murdoch students, both current and former, was at the top of Foreign Minister Kevin Rudd's itinerary on a recent trip to Jakarta.
He made a surprise visit to the Atma Jaya Catholic University to meet the students of the Australian Consortium for 'In-Country' Indonesian Studies (ACICIS) professional practicum programs, which are administered by the ACICIS Secretariat based at Murdoch University.
Mr Rudd was welcomed to the university by participants in a primary school cultural dance competition. He then dined with the ACICIS Resident Director, Dr Phil King, together with students doing the ACICIS Journalism Professional Practicum and the Development Studies Professional Practicum, before meeting Indonesian President Susilo Bambang Yudhoyono at the Presidential Palace.
Murdoch student Ke Grace said the surprise visit was the highlight of the week.
"The impromptu visit was insanely pleasant and a brilliant opportunity to meet the ever coherent and eloquent minister while on a study trip to Indonesia – one that none of us was prepared/geared up to anticipate," she said.
"His speech to us highlighted the importance of having good bilateral relationship between nations, and brought forth the significance of expanding our capacity to learn outside from our comfort zone."
ACICIS Founder and Director Professor David T Hill, who is Chair of South East Asian Studies at Murdoch University, said: "It is a great encouragement to ACICIS that Foreign Minister Rudd has chosen to see for himself what ACICIS is doing in Indonesia.
"We regard it as a strong endorsement by both the Minister and the Embassy of the ACICIS' achievements and contribution to Australia-Indonesia educational relations."
Whilst in Jakarta, Mr Rudd also stopped in on Murdoch alumnus and rising pop singer, Jeremy Stringer. Mr Stringer attracted attention in Indonesia after appearing on Asing Star, a very popular talent show for expats singing in Indonesian.
Mr Stringer studied a Bachelor of Asian Studies at Murdoch, including two semesters in Indonesia with ACICIS, before working as an Indonesian language teacher, a translator and an interpreter. He is now a program manager with AusAID in Jakarta.
Check out what Mr Rudd had to say on his visit to Atma Jaya Catholic University: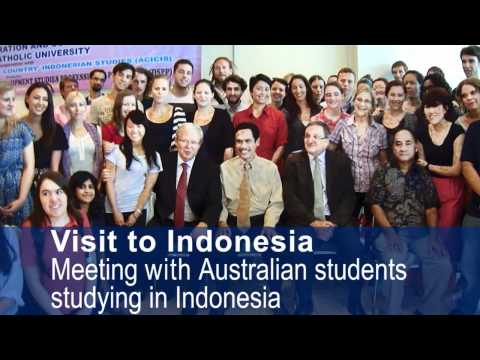 And watch the Interview with Mr Rudd, Mr Stringer and Australia's other singing sensation, Adelle Neary: